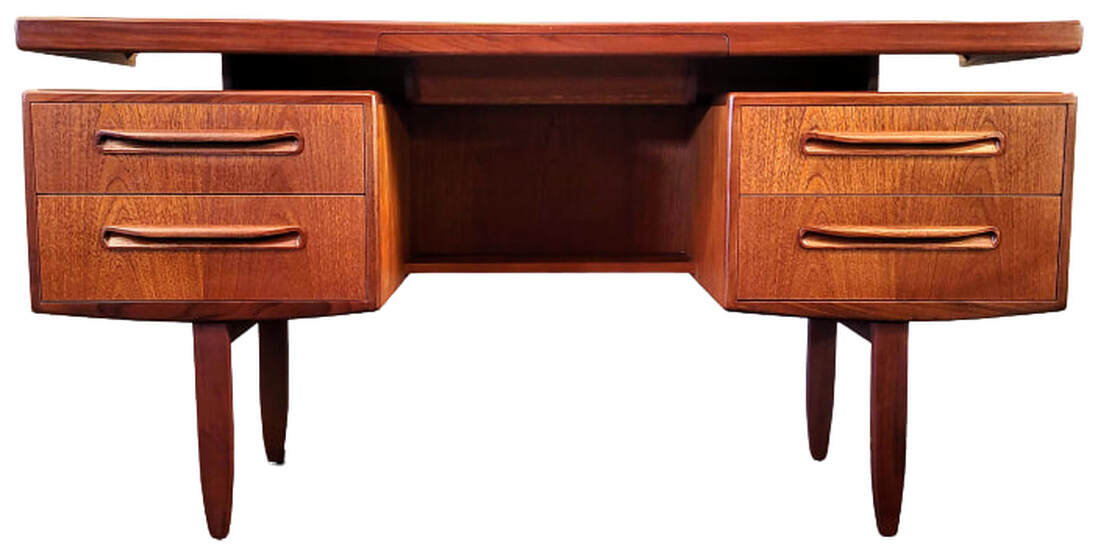 We are currently SOLD OUT of this model. Check back for restock.

G-Plan New Fresco | E. Gomme | High Wycombe, England | 1977

G-Plan New Fresco Dressing Table 2300 makes a great work desk.

Designed by Victor Bramwell (V.B.) Wilkins for Ebenezer Gomme's G-Plan Brand.

This 1977 model is almost identical to the 1967 model number 1982. The original Fresco range launched in November 1966 featured subtle, curved elements. 'New' Fresco is defined by rectilinear lines. The term 'New' was only applied for the first year after launch, reverting thereafter to 'Fresco'.

Desk features teak veneers African afrormosia trim, pulls, and tapered legs.

The frieze drawer in the center of the floating top is lined with purple velvet.

One central shelf is installed at the back of the kneehole.

Each side is fitted with two storage drawers.

Hang a mirror above to use as a bedroom vanity.

60" w x 18" d x 30.5" h

Chair Width Clearance: 20"

Knee Clearance: 28.5"

2695

SKU# 135-55


Remploy Bureau from England
Remploy Mid-Century Modern teak bureau has a flat top, a lockable drop-front secretary desk, two frieze drawers, and a double-doored cabinet on a plinth base.

The fitments include vertical and horizontal pigeon holes for letters and correspondence inside the desk and one adjustable shelf in the cabinet.

Keyhole insert and hinges are brass.

The Remploy label is inside the right cabinet door.

36" wide x 16" deep x 41.75" high

SKU# 135-REMPLOY

​1695

Remploy was set up under the 1944 Disabled Person's Employment Act by then Ministry of Labour Ernest Bevin.

The firm was formally founded in April 1945 and in 1946 the first factory opened in Bridgend, South Wales. The factory workers, mostly disabled miners, produced violins and furniture.

"REMPLOY" was a brand name derived from "re-employ". The name was originally registered by the Ex-Services Employment Corporation and was adopted in 1946 when the Disabled Persons Employment Corporation became Remploy.

Remploy employed badly disabled and scarred soldiers returning from World War II. Clement Attlee's Labour government did not want a repeat of post-World War I limbless soldiers playing mouth-organs on the streets. Then Minister of Labour George Isaacs opened the first factory and said upon opening:

"One of the finest Acts of Parliament ever put on the statute book is to see that these people are not left like flotsam and jetsam on the beach of society, but are put somewhere where they can be happy and of use to the community."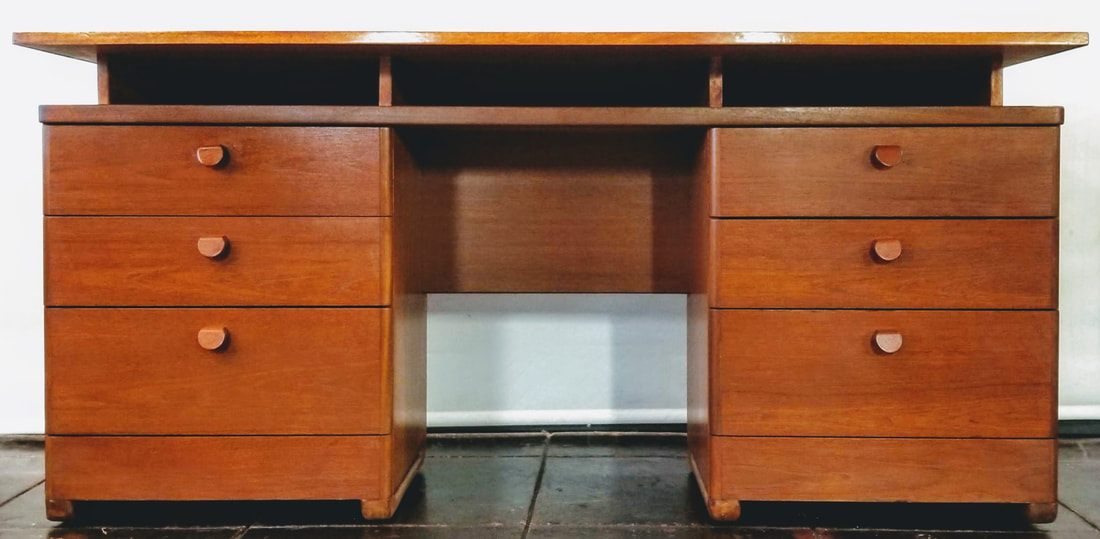 Executive's Desk | 1960s

Vintage Scandinavian Modern style teak floating-top, pedestal, kneehole executive desk.

Kneehole desk has three storage drawers down each pedestal, for a total of six drawers. Below the floating top are pigeon holes for storage or your keyboards.

84" w | 30" d | 30.25" h

SKU# DESK-567

2395

Click on the photo above to email us regarding this desk.