Vintage Beautility Catalogue Model Pouring a Drink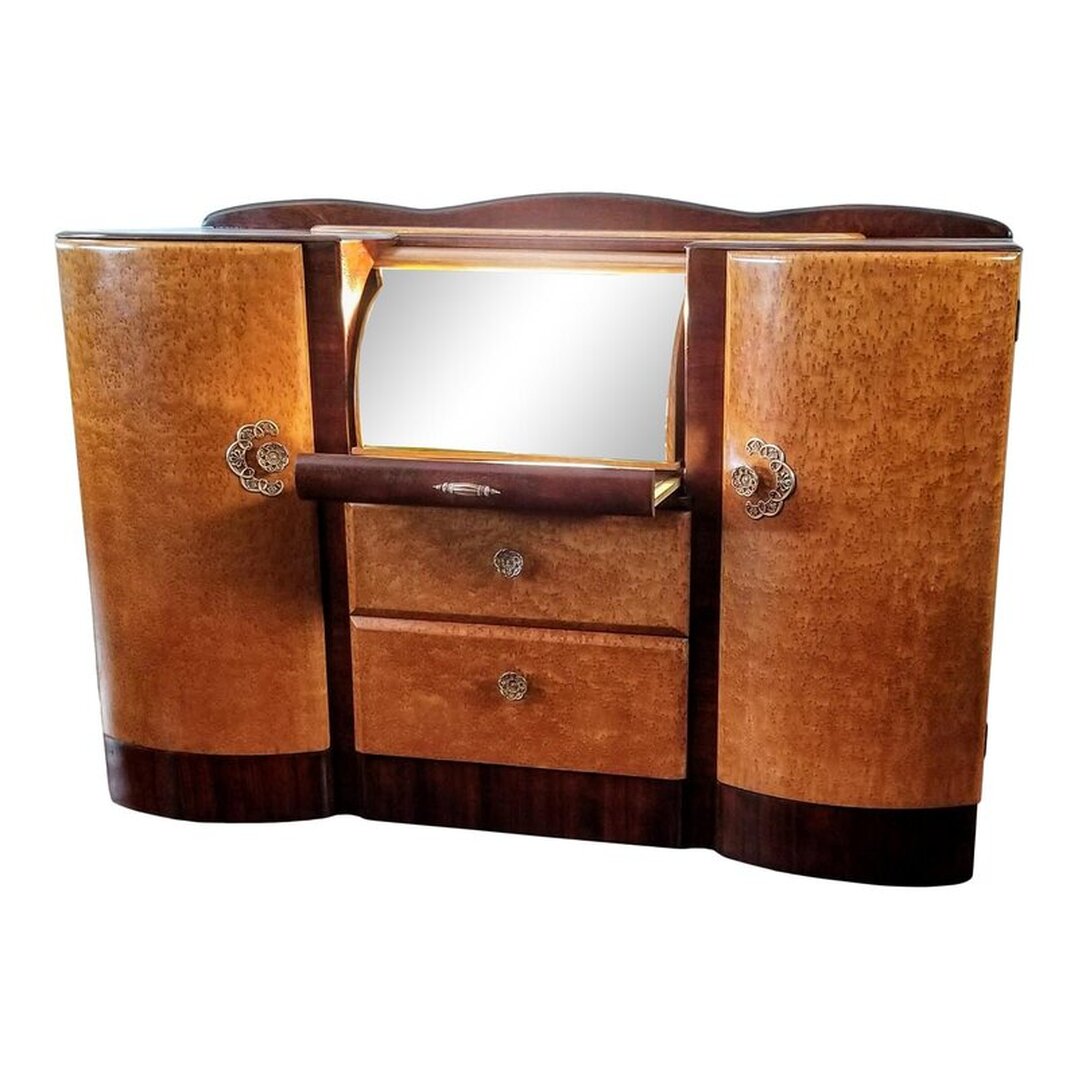 SOLD

Cocktail Sideboard | Maple and Walnut | Made in England | 1953-1957 | Attr. Ronson / Heron

The shaped oak carcase is veneered in beautiful sugar maple in bird's eye and finger curl figures.

The trim, shaped backboard, and baseboard are of dark straight-cut red walnut.

The cocktail cabinet is inset into the center top. It is a barrel-style opening mechanism originated by designer Ronald Sadow for Beautility and based on roll top desk designs. The mechanism is triggered by tugging the brass pull on drinks prep station below the cabinet panel. When the panel opens, the inside light turns on and reflects off the mirrored interior.

Below the drinks prep station are two deep storage drawers with round brass fretwork pulls.

To the sides are rounded-front single door cabinets with one standard shelf in each. The mounts are brass fretwork scutcheons and round pulls. The cabinet interiors are lined with mahogany wood.

We attribute this piece to Heron Son Dining Room Furniture of Distinction, also known as Herons of London, started as Ronson Furniture in 1953.

The Heron name was created by Gerald Ronson and referenced his father's name, Henry Ronson.

Heron seemed to "borrow" from Beautility Furniture designs, except they used maple veneer on their designs.

Due to legal issues and growing interests in real estate, Ronson / Heron Furniture did not continue manufacturing after 1957, if not before.

Inside the left cabinet door is a British Standard Institutes ( BSI ) "kite mark" and regulation number 1960, introduced in 1953 for "domestic furniture constructed mainly of wood". The furniture company license number is 2066. Each furniture company was assigned a different number, withdrawn in 1977, and records were not maintained. We do not know for sure that Heron carried the 2066 license; however, based on other maple cocktail sideboards we have seen from Heron, we feel comfortable making the attribution.

54.25" wide x 20" deep x 37.25" high

3595

Click on the photo above to view photos and to learn more.




SOLD

Cocktail Sideboard | English Walnut | Nathan Furniture | England | 1950s

English walnut-finished cocktail sideboard from the 1950s blends Classic and Art Deco styling for an updated Traditional Mid-Century design.

The stepped top contains a central cocktail cabinet that opens with a tug on the brass and Catalin pull on the front.

The interior of the cocktail cabinet has a mirrored back and rear of fall-front door.

Two storage shelves for drinking glasses, etc. feature copper galleries.

The drinks prep station hardware is all copper, including the piano hinge at top, interior drop hinges, galleries, and cocktail pick caddies. Six new stainless steel cocktail picks are housed in the copper caddies under the top of the cabinet along with a stainless steel citrus reamer.

Three storage drawers are fitted below the cocktail cabinet. The top drawer is fitted with spacers for organizing. The two lower drawers are nice and deep, offering plenty of storage.

On each side of the cocktail cabinet and drawers are curved-front single-door storage cabinets. Each cabinet is fitted with one standard shelf.

The carcase is supported by a graceful curved and splayed plinth base.

The carcase is constructed from oak wood.

The cabinet door interiors and curved base trim are mahogany wood.

The interior of the cocktail cabinet is maple wood.

The piece is finished with matched burl figured English walnut wood veneers.

The marbleized butterscotch cylindrical knobs are Catalin thermoplastic. The knob on the front of the cocktail cabinet is placed over an elliptical brass escutcheon.

CLOSED: 54.25" wide x 20" deep x 37.75" high

OPEN: 54.25" wide x 27" deep x 47" high

3595

Click on the photo above to view photos and to learn more.