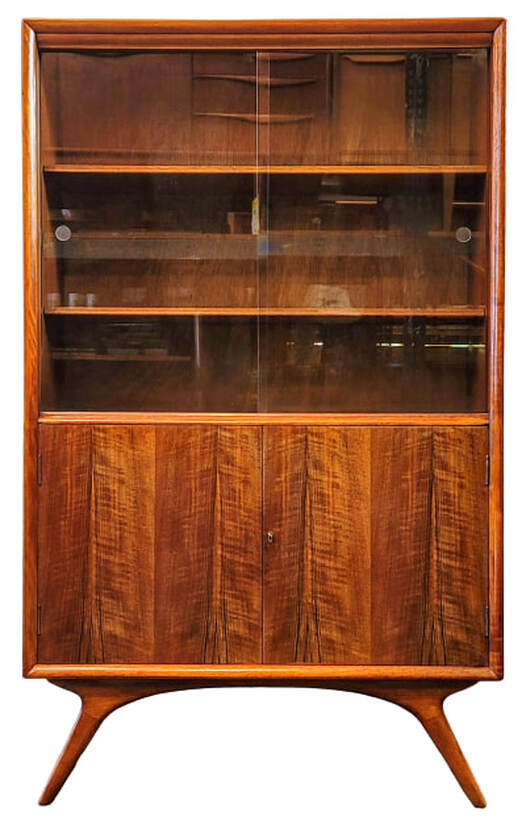 Glazed Bookcase and Display Cabinet | Designer: Malcolm David Walker ( M.D. Walker ) | Dalescraft Fine Furniture | Pudsey, Leeds, Yorkshire, England | 1956

Bookcase display is fitted with two adjustable shelves over standard shelf behind two sliding glass doors.

The base is fitted with a two-door storage cabinet above a curved apron and four splayed feet with front-to-back stretchers.

The cabinet door panels feature beautiful mottled European Walnut. The sides are plank cut European Walnut. The cabinet interior and bookcase sides are lined with mahogany. The back is paneled in oak.

33" w x 12" d x 53.75" h

SKU# 135-16B

2195

See 1956 Dalescraft catalogue listing below, care of the Space Vintage and Retro blog.

Click on the photo above to email us regarding this bookcase.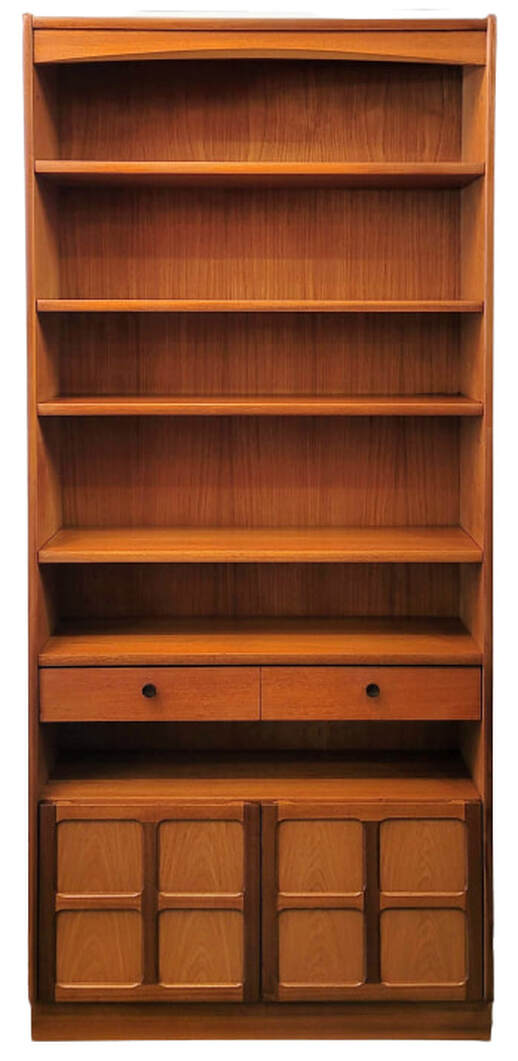 Tall Teak Bookcase | Nathan Furniture | England

Nathan Furniture Classic Teak Finish Range tall bookcase offers four adjustable shelves; one storage drawer; one standard shelf; and a double-doored storage cabinet on a plinth base. The flat top offers further display and storage. The top shelf is under a gently curved arch.

The cabinet doors are signature Nathan Jacobean inspired simplified cruciform framed paneling. Originally designed for Nathan in 1971 by Patrick Lee, the design was an instant hit and remains an icon of Nathan Furniture.

The bookcase is built from sustainably sourced Tectona Grandis teak wood. Nathan chooses teak for its quality and character in order to present perfectly matched figures that showcase special beauty and individuality.

34.25" w x 10.5" d x 76" h

1995

Click on the photo above to email us regarding this bookcase.